Pages 1, 2
In the south, the Asian continent ends at Tanjung Piai in Johor. Despite the 10-hour drive from Ipoh, CASEY NG feels overwhelmed to be standing at Land's End
Imagine that exhilarating feeling as you stand at the southern most tip of the Asian continent. Tip of what? Where?
Tanjung Piai of course. If you don't know where that is, don't worry. Not many Malaysians do but do check a map to find exactly where this southern most spot is.
Now imagine standing at the very edge. What an awesome feeling, one that will make the journey south till the road runs out, worth every km of the way.
It is sandwiched between the Tebrau Straits on one side and the Straits of Malacca on the other. From here, you can see Singapore and the Indonesian island of Pulau Karimum .
For a place that's geographically so intriguing, it's a pity that Tanjung Piai remains in the backwater of the country's tourism.
It's almost never mentioned in tourism promotional brochures and most Malaysians haven't the faintest idea of its existence.
While stopping over in Benut to ask for directions to Tanjung Piai, I met a middleaged local who could only muse "is that so?" when told of the "southern most" moniker.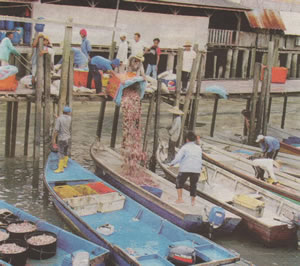 Aqua-famers load their boats with leftovers from cottage
industries around Kukup for feeding fish
The Muar Pontian trunk road led me to Sungai Belukang's entry point and seeing Tanjung Piai from there was a big letdown. It looked dilapidated.
Was this what I drove 10 hours from lpoh for? I could barely hide my disappointment. But wait a minute. There was another board pointing to "Entry Point 2". 1 gave it a shot. And as my car tracked through the narrow, undulating path, I caught sight of a spanking new visitor complex.
Finally, the right place. Johor's Tanjung Piai National Park covers more than 926 hectares of forest, of which 526 hectares are coastal mangroves with inhabitants that include dusky leaf monkeys, longtailed macaques, mudskippers, crustaceans and several rare bird species like the Spoonbilled Sandpiper, Lesser Adjutant Stork and seasonal migratory seabirds.
Meandering through the park are concrete paths that lead to observation towers that allow panoramic views of the sea, the coast and the lush forest.
When you walk along these paths, dotted with shelters, you can commune with Mother Nature and the quiet solitude offers peace of mind.
There is little indication that Tanjung Piai lies along the path of one of the busiest shipping corridors in the world and passing vessels create strong waves that erode Tanjung Piai's mangrove bank by 10m every year.
But all is not lost. In 2003, the Drainage and Irrigation Department embarked on a RM3 million project to install geotubes to break incoming waves.
"We are also working with the Pontian District Council to hasten road improvement and to install more signboards with directions to the new complex," says
Harban Singh, Ramsar Site manager for Johor National Park Corporation.
Unfortunately, the soft estuarine soil thwarts efforts to maintain an evenly tarred road. "Ultimately, we want an entry path that's eco4riendly," he adds.

Next page