Welcome to Johor
Johor is Peninsular Malaysia's southemmost state and is linked to Singapore by a causeway and a bridge. The state capital Johor Bahru, is home to world-renowned golf courses and shopping establishments. JB, as it is more popularly known is famous for its historical buildings and impressive architecture.
Johor's vast landscape is characterised by plantations of pineapple, rubber, coconut and oil palm on the fringes of which nestle tranquil kampungs and quaint fishing villages. Retaining much of its natural splendours, the state has miles of golden sandy beaches and beautiful offshore islands as well as lush dipterocarp forests.
There is accommodation here to suit budgets. For a different experience join a homestay programme and live in a traditional village. There are many street stalls, food courts, fast food outlets and fine dining restaurants to choose from in Johor offering both local and international style cuisine.
Places of Interest
The Grand Palace and Royal Sultan Abu Bakar Museum In 1866, Sultan Abu Bakar the father of modern Johor built the magnificent Istana Besar (Grand Palace) as his official residence. The North Wing today houses the Royal Sultan Abu Bakar Museum, showcasing rare and beautiful treasures from all over the world.
Sultan Abu Bakar Mosque On top of the hill overlooking the Straits of Johor not far from the istana Besar, stands the magnificent Sultan Abu Bakar Mosque, one of the most beautiful old mosques in Malaysia.
Sultan Ibrahim Building Dominating the Johor Bahru skyline, the building houses the state secretariat and the offices of the state government. The building reflects both local and colonial architecture.
Gunung Ledang In the north, Gunung Ledang or Mount Ophir at 1,276m provides a challenging two-day return trek passing through waterfalls and forests. At the relatively flat summit, a panoramic view of the Straits of Malacca and Sumatra coastline can be seen on a clear day. Also, a popular picnic spot is the Gunung Ledang Waterfall, at the base of the mountain.
Endau-Rompin National Park Explore the vast wilderness rainforest in this park, one of the peninsula's largest virgin lowland forests. It is a major conservation area to the diversity of flora and fauna found within. There are some 26km of jungle trails within the park, the most well-trodden path being the gruelling 16km trail from Kuala Jasin to Batu Hampar and Buaya Sangkut, with numerous rapids crossings. At Buaya Sangkut, be enchanted by the beautiful sight of a waterfall.
Desaru Near the peninsula's southeastern tip is a 25km beach resort destination for Johor folk and neighbouring Singapore. The waters here are often conducive for swimming, waterskiing, canoeing and catamaran sailing. Enjoy recreational activities such as go-karting, golfing and ultra-light aircraft flying. The Desaru Fruit Farm is also located here and offers interesting agro-tours. Nearby is Lebam River where visitors have the opportunity to see fireflies at night. About 8km north of Desaru is the Fishermen's Museum at Tanjung Balau which displays fish traps and equipment used by the local fishermen and various artefacts of the trade.
Kota Tinggi Waterfalls The water cascades from a height of 36m down a steep precipice into a pool deep enough for swimming. At the base of the fall, there are changing rooms, camping grounds and restaurants.
Danga Bay Situated along the popular Lido Beach, Danga Bay is a great place to unwind, relax and just watch the city go by. Sample the delicious fare available from the number of restaurants serving both local and international cuisine.
Johor Area Rehabilitation Organisation (JARO) The Johor Area Rehabilitation Organisation or JARO is located along Jalan Sungai Chat where visitors can purchase baskets, bedspreads, furniture, soft toys and various other products made by the disabled community.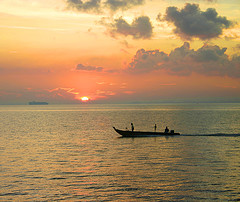 Tanjung Piai This environmental sanctuary is also the southernmost tip of mainland Asia. It is made up of coastal mangroves and is home to many species of birds. There is a park and visitors' complex where one can learn more about this wetland.
More information about Tanjung Piai
Islands off Mersing The state's beautiful offshore islands, Sibu Besar, Sibu Hujung, Sibu Tengah, Sibu Kukus, Rawa, Aur, Pemanggil and Tinggi are accessible from both the Mersing and Tanjung Leman Jetties. Aur island, along with Dayang island, Lang Island and Pinang island, are rated among the best diving destinations within the Johor Marine Park Area. The deeper waters around the area ensure good visibility and variety of marine life. Dive trips can be booked at most dive shops on any of the islands. Simple resorts are the order of the day on these idyllic secluded getaways, all boasting beautiful beaches with shady cool trees and clear waters.
Nasoha Spices and Herbs Paradise A few Kilometres from Pagoh town in the district of Muar, lies the Nasoha Spices and Herbs Paradise. This 1,000ha spice and herb farm is home to hundreds of medicinal plants. There is also accommodation and a restaurant at the farm.
Shopping Johor is a delightful place to shop. There is an immense variety of goods and the state is noted for ceramics and handicrafts as well. Bazaars and open-air night markets are found throughout the city. The Johor Bahru Duty Free Zone is located at Johor Bahru's eastern waterfront area and is the largest duty free complex in Malaysia. It has a hotel and convention centre; and a five-level shopping podium. There are also ferry links to Singapore and indonesia from here; and immigration and customs facilities.
Getting There
Via the North-South Expressway, Johor Bahru is 220km or a 4-hour drive from Kuala Lumpur. It is also accessible from Kuala Lumpur and several other states such as Sabah and Sarawak by air. Bus services from major cities and towns in the peninsula run several times a day to Johor Bahru. The 1,038m Singapore-Johor Causeway, is the most frequently-used mode for commuting between the two cities besides ferry, rail and an alternative bridge.
Useful Contacts
Immigration Office (Senai Airport) City Lounge (Senai Airport)
Tel: 607-5991055 Tel: 607-2271454/2231032
Johor Bahru Railway Station Ferry Service (from Johor Bahru to Batam,
Tel: 607-2234727 Tg. Pinang & Tg. Belungkor) Syarikat
Tenggara Senandung Sdn.Bhd.
Tel: 607-2211677
Sultan Ismail Airport
(also known as Senai Airport)
Tel: 607-5994500
Danga River Cruise
Tel: 607-2352333