One of such areas is the Pengerang Battery in Tanjung Pengelih

Pengerang Battery is located 45mn far by bumboat from Singapore (Changi Point Ferry Terminal). The bunkers lie just at the exit of the customs. Otherwise, you will need to drive 2 hours from Johor Bahru (to Sungai Rengit, then turn right and drive to the end of the coastal road at the jetty for boats leaving to Singapore ).
HISTORY AND DESCRIPTION
Pengerang battery is a lost fortress located in Johor State in Malaisia. Overlooking the sea towards Singapore , it is located close to a Malaisian military camp, standing on the top of a little hill covered by jungle.
The small town of Pengerang in Johor has a big story to tell — a 70-year-old tale of the British Army's huge blunder.
It is of a town which became the British Army's "Waterloo" in 1936, when they paid the price for underestimating its biggest nemesis then — the ruthless Japanese army.
The Japanese invaders captured Malaya without a single shot being fired from the Pengerang battery (a fort where weapons such as guns and cannons are stationed) when they surprised the British by landing
in Kota Baru instead of Singapore.
This battery was part of the "Singapore fortress" aimed at defending Singapore from a sea attack. It was equipped during the 30's with two 6 Inch guns. This battery didn't fire any shot till the 15th of Fabruary 1942, when Percival surrended.
A TIP FOR A UNIQUE TRIP, PEOPLE TO MEET If you come by car, make a stop at Sungai Rengit to enjoy cheap seafood. If you want to stay in Malaisia for the week end, go to Desaru, where there are many beach resorts (check the map).
The place has been abandonned after WW2. Be careful when you explore the remains. Don't forget these ruins are in the jungle: dangerous animals live there: Pythons, Cobras, and Green
The battery, located at Tanjung Pengelih,is said to be the biggest defence fort outside the United Kingdom. It sits on a 610ha plot of land and once had barracks and a hospital.
Azalina says tourists will be allowed in to view the structures once the whole place is cleared and spruced up.
"There's a lot of work to be done before we can open the place to tourists. It will attract the war veterans, historians,students and families of those who were posted in Malaya during the war.
She was in Pengerang to visit the state's new eco-tourism products, including Pulau Tanjung Surat, Sungai Lebam, Tanjung Belungkor and Tanjung Pengelih.
Some of these locations are already a hit with Singaporeans, where scores visitPengerang and the nearby Desaru daily.
Desaru, meanwhile, is an ideal location for picnicking and sur! ng, especially during the monsoon period.
One of Desaru's biggest attractions is the Desaru Fruit Farm. The farm is home to some 1,888 koi ! sh. Tourists can dip their hands into the pond and let the ! sh nibble their ! ngers and palms.
There are many types of fruits to be enjoyed and a petting zoo that houses many species of animals, including ostriches, peacocks, turkeys, wild fowls, rabbits and goats. Entrance fee to the farm
is RM15 (adult) and RM10 (child).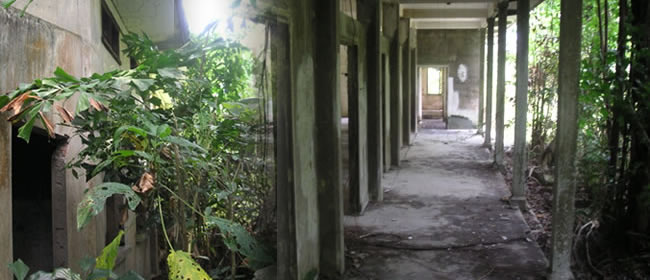 An attraction that will appeal to those who enjoy historical tours is the grave of local hero and freedom ! ghter Si Bongkok.
Si Bongkok's grave at Ladang Bukit Belunkun Kecil, is just a few minutes' drive from Tanjung Belungkor.
Stepping into history
The entrance to the tunnel which leads to the battery in Tanjung Pengelih.
Offi cials in Datuk Seri Azalina Othman Said's entourage at the recently discovered Si Bongkok grave on a small hilltop.
The inside of battery,a grim reminder of the British Army's costly mistake in Johor.
Pengerang Location Map