Welcome to Perlis
Perlis, the northern gem, exudes natural beauty and is characterised by sprawling paddy fields. Predominantly agricultural, its historical background is marked by ancient archaeological discoveries and its multiracial society is a fascinating amalgamation of Malays, Chinese, Indians and Thais as it shares a border with Thailand.
There are several natural attractions that make this state unique such as the Perlis State Park and Gua Kelam. However, there's a lot more to to Perlis. For those who love cities and towns with a relaxed pace of life and a little history on the side, Kangar, the state capital, has historic buildings such as the Syed Alwi Mosque while the Royal Palace and Royal Mosque are located in the Royal town of Arau. Visitors can select their accommodation from among various hotels and budget inns located in the city and major towns.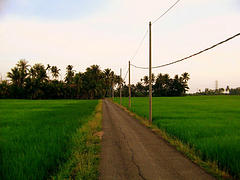 Places of Interest
Perlis State Park The park provides the perfect setting for activities such as caving, bird watching, jungle trekking and hiking. Species of animals such as the Stumped-tail Macaque and plants like ginger, ferns and balsams endemic to the state are found here. Visitors can stay in hostels and chalets or camp at the designated site. Those intending to visit are required to obtain permission from the Perlis State Park Management.
Gua Kelam Recreational Park Situated within Kaki Bukit town, the highlight of this park is Gua Kelam, a 370-metre limestone cave which is filled with interesting stalactite and stalagmite formations. This well-lit cave is believed to have been hollowed out from a limestone massif by an underground stream over many eons. Located nearby is Gua Kelam ii which is suitable for more experienced cavers.
Gua Wang Burma The Wang Burma Cave has unique and challenging chambers and shelters a large population of insects, bats, toads and other cave inhabitants. It is located north near the Bukit China Granite and tucked between Gua Kelam and the Perlis State Park. Those intending to visit are required to obtain permission from the Perlis State Park management and engage the services of a ranger or qualified guide.
Wang Kelian Sunday Market Wang Kelian is a popular market situated along the Thai-Malaysian border. A myriad of goods such as handicrafts, tableware and clothing are available here. Visitors can visit the market without the use of passports, provided that they remain within the market area.
Kuala Perlis The major ferry teminal for visitors departing for Langkawi is located at the mouth of the Perlis River. The major activity found here is fishing and many superb seafood restaurants can be found in this small fishing town.
Taman Herba Adjacent to the Bukit Air Recreational Park, on 12ha of Island is the Herb Garden. Opened in 1998, this ethno botanical museum now contains over 1,000 species of herbs, spices and other medicinal plants of local and foreign origin. Here, visitors can learn about their uses and how to care for such plants as well as purchase them.
Padang Besar Located along the border, this bustling town is a shopper's paradise where one can choose from a wide variety of produce, handicrafts and clothing. It is also a major stopover along the rail route between Singapore, Malaysia and Thailand.
Chuping Sugar Cane Plantation Named after bukit Chuping, a limestone hill, the landscape here is dominated by 8,000ha of lush sugar cane plantations. The seemingly endless expanse of greenery is truly a sight to behold. Those interesting to visit are required to obtain written permission from the Perlis sugar factory.
Snake and Reptile Farm The farm was formerly a research facility set up to develop serums for snakebites, it has open air enclosures as well as closed exhibits and is home to over 20 species of snakes, crocodiles and monitor lizards.
Tasik Timah Tasoh Lake Timah Tasoh is located along Sungai Korok, about 2.5km below the confluence of Sungai Timah and Sungain Tasoh. It is frequented by visitors who come to the lake to enjoy beautiful sunset views.
Tasik Melati This picturesque man-made lake is the ideal place for boating and is favoured as a picnic spot. It is also frequented by joggers as there's a good jogging track with ample rest areas.
Royal Museum The museum houses a collection of royal regalia such as headgears, Malay daggers, tiaras as well as swords which are used during royal ceremonies. Also highlighted here is the history of the Perlis Royal family. Those intending to visit are required to obtain permission from the Arau Palace officials.
Syed Alwi Mosque This majestic 96 year-old mosque is also known as Masjid Alwi. It features islamic and Malay architecture, and was once the Perlis State Mosque.
Harumanis Plantation Come the month of May this 64.6ha plantation in the Bukit Bintang Agriculture Centre will be flocked by mango lovers who come to purchase varieties of mangoes such as harumanis, mas indera, mas muda, chok anan and sala.
Kota Kayang Museum The museum is situated close to what was historically a fortified area, which is marked by the mausoleums of two 16th century sultans of Kedah and the remnants of timbers that demarcated the burial sites. During the construction of the museum, several ancient artifacts dating back to at least 2,000 years were discovered.
Dato' Wan Ahamd's House A multi-stratum roof, beautiful woodcarvings and colourful panels adorn this charming wooden village house. This 70-year old structure once belonged to the late Dato'Wan Ahmad.
Shopping, Dining and Entertainment Travellers can shop for duty free items at Padang Besar or scour the local markets for interesting knick-knacks and handicraft items. Alternatively, you can embark on a gastronomic adventure and sample local delicacies such as laksa perlis, a seafood noodle soup with rich, spicy and creamy fish gravy, ikan bakar or spicy grilled fish and Chinese seafood steamboat. The choice of eating places in Perlis range from hawker centres and air-conditioned restaurants to cafes and hotels, where western fare is also available.
Getting There
The Sultan Abdul Halim Airport in Kepala Batas, Kedah, receives daily flights from the Kuala Lumpur International Airport (KLIA). At the airport, taxis and buses to Perlis are available. For those who prefer to drive, the state is accessible by road via the North-South Highway. Alternatively, travellers can take a bus or taxi from Johor, Terengganu, Kelantan, Malacca, Kuala Lumpur, Penang and Kedah. You can also catch a train from kuala Lumpur, Alor Star, Haadyai, and Singapore to Arau and Padang Besar or take a ferry from Langkawi to Kuala Perlis.