About KLCC

For our purposes this area encompasses Kuala Lumpur's Golden Triangle and Central Business District within the immediate vicinity of Jl. Raja Chulan, Jl.Imbi and Jl. Pudu as well as along Jl. Sultan Ismail up to Jl. Ampang.

Hotels in the KLCC area are generally world renown 5 star properties offering the highest standards of luxury and service.

Kuala Lumpur City Centre (KLCC) pretty much covers the Central Business District and is home to a good many embassies and international company headquarters.

With the now famous Petronas Twin Towers anchoring the area KLCC has become the new commercial centre of KL. There has been quite a lot of development in this area and now the area boasts many of Kuala Lumpur's new skyscrapers, 5 star hotels, office buildings, luxurious fully serviced apartments, upscale shopping and fine dining establishments.

That and the fact that it is nicely laid out with very good transportation facilities that make it easy to get about makes KLCC a favorite area for business travelers as well as upscale leisure visitors. Hotels in this area are usually large 5 star deluxe properties affiliated with an international chain.

KLCC (Holdings) Bhd is the owner of the 1.67 million sq. meters of commercial development on the 40-hectare (100-acre) KLCC Project, one of the largest real estate developments in the world.

The company's core business is investment holdings in the commercial, retail and hotel sectors.

Its subsidiaries are involved in property investment, project development and management and facilities management.

Suria KLCC is Malaysia's premier shopping destination located at Kuala Lumpur prestigious commercial address, the Kuala Lumpur City Centre (KLCC). It offers an array of goods and services to please and pamper the needs of shoppers; from fashion, entertainment, arts & culture to local delicacies and international gourmets.

Set in the heart of Kuala Lumpur's Golden Triangle, Suria KLCC is surrounded by hotels, office buildings, a scenic park and dancing fountains, promising hours of leisurely pleasure. From whichever entrance you take, the excitement hits you the minute you step into the sensational splendour and diversity of the centre.

There is always something for everyone to savour at Suria KLCC : >> 6 levels of retail outlets with each level of a distinctive character and style. >> Anchor tenants are Isetan, Parkson Grand, Tanjong Golden Village and Level 2 Food Court. Other key tenants include Marks & Spencer and Asian Flavors Food Court. Including destination shop such as Pucuk Rebung and Aseana which are located exclusively Suria KLCC. >> Shopping, restaurants, cafes, entertainment, leisure, home decor, a concert hall, an art gallery and a science discovery centre. >> Customer-friendly facilities which include well-trained customer service staff, taxi, and bus stops, ample parking bays, a post office which opens throughout weekends, a Bureau de Change, a cobbler, a locksmith, florist and ATM centres.
All this within one location.

Tourist Information

A Show Case of World Class Real-Estate Development

The Kuala Lumpur City Centre Development, strategically located within the Golden Triangle of Kuala Lumpur ranks among the largest real-estate developments in the world. The 40-hectare (100-acre) development is born of a vision to create a place where people can work, live, visit, shop and enjoy leisure and cultural activities in a convenient and pleasant environment.

Designed as an integrated mixed-use development, it will ultimately provide more than 1.67 million sq. metres (18 million sq. feet) of commercial, retail, hotel, residential and entertainment facilities within a parking setting.

The master plan provides for 22 commercial developments to be located along the perimeter of a 50-acre landscaped park.

In line with KLCC's policy of undertaking commercial development solely in response to an identified demand, the 100-acre development is being undertaken in phases. Anchoring Phase One of the development is the North-West Development, which serves as the gateway to the development. Among the North-West developments are the 88-storey Petronas Twin Towers, the 6-Level Suria KLCC, a 20-hectare public park and a 6,000 capacity Mosque.
Information Search here
Custom Search
Entertainment at KLCC
1. TGV KLCC cinema show time

KLCC map

KLCC night view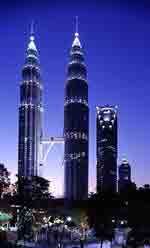 KLCC Night View