These will save air travellers from incurring extra charges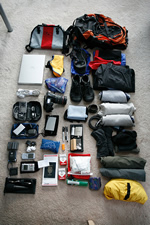 DANG! I am 10kg overweight. Again. From flight baggage weight limit of 15kg, 20kg, 25kg, low-cost airlines these days have been less than merciful towards vain ladies such as me.

A leather ankle length winter coat is already 2kg on its own. Not to mention that every girl needs a beauty kit to store products ranging from skincare to make-up and perfumes.

Mine weighs about 5kg. And I can't be seen wearing the same outfit twice during my journey!
I have a blog with pictures of me every day for thousands to see, for god's sake. And don't get me started on shoes. Pairs of sneakers, flip-flops, heels and boots each are already heavier than all my gadgets combined! Am I forced to replace my faux fur coat with an ugly puffy bubble winter jacket? I shudder to think of this.
I find my luggage getting heavier with each trip I take. It's a gruelling preparation.
Five years ago, the things in my backpack weighed nothing more than three watermelons and a pooch, and it lasted me two months.
Now, I can't seem to keep my bag under 20kg for a two-week trip to Australia. Am I left with no choice but to resort to upgrading my flights or changing my airlines preference just because I can't keep my weight down?

So, I am not the best person to seek advice on "How to pack light." However, I have mastered the technique of cheating my way to packing light.
For ladies who wish to pack "light" but won't do it without taking her entire wardrobe with her, here are some useful packing tips that will get you on that plane without any extra charges.
Start with you bag- most might not realise that some of the good quality or branded travel bags such as Guess and Samsonite are rather heavy by themselves. They might be durable, sturdy, look really nice and can be tossed around without getting ripped but a 42-inch wide bag could also weigh one third of your weight limit allowed on a plane. Get yourself an affordable light-weight travel bag and you'll be able to take along extra clothes plus a pair of stunning boots.

Pack a laptop bag- this is a deceiving tactic, but almost every traveller Iknow used the same trick too. If a laptop is what you can't live without, well, great.
Put your compact laptop into your rather spacious backpack and fill the rest with extra clothes, books, phone chargers and everything small but heavy.
Most airlines don't check laptop bags because they're your personal bag. As for your Gucci or Prada handbag which you can't live without, pack these in your check-in baggage or stuff them in your hand carry. You can always get them out once you arrive at your destination.

Get a hand carry- this is essential and versatile. Forget small concise trolley hand-carry, opt for a foldable weightless, there's no shape limit so it's easier for you to adjust with the space within.
I have tried stuffing mine with two huge soft toys, three jackets, two boxes of wallets, few books and there is still space left for sou-
venirs when returning.
Remember to keep to 7-10kg depending on different airline terms. Some airlines are stricter, but in case of emergency, pray that you'll get away with it.

Bottle up! - if you carn't live without your imported shampoo and conditioner, pour these into small plastic bottles, enough to last you till you return. However, the best possible option is to buy these essential toiletries at your destination. Most brands offer small travel packs which you can chuck away before your flight home.
Resort to one entertainment- so it's either your battery powered laptop with tonnes of songs and videos to keep you occupied during long journeys or lonely nights or it's one ridiculously thick book that's either boring enough to make you sleep or interesting enough to keep you occupied till the end of your trip.
Pass it on to someone or leave it behind.
The best choice though is still an iPod which allows you to do all of the above.
Next Topic : Airborne animals
Previous Topic: Travel insurance tips
Information Search here
Custom Search

rightmenu