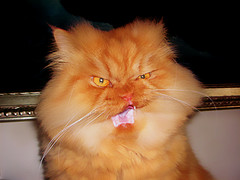 Want to bring your pet along when you travel? It's worth considering expecially when the costs these days could be lesser than boarding.
Don't sedate your pet before flying. The results are often unpredictable, even fatal. Sedation is said to be the cause of most pet travel mishaps.
It is preferable for shortnosed animals, like Persian cats and pugs, to flyin the cabin rather than as cargo.
For pets travelling by cargo:
a) Fly in the morning or evening during the summer, and mid-day during the winter to ensure safe temperatures for pets
travelling as cargo. Some airlines will not allow pets to fly in cargo during extreme hot or cold weather or during particular seasons. This is a sign that they care for pets and it should be considered when choosing your airline.
b) Alert the airline staff and crew members and preferably the pilot that there is a pet on board and ask them to ensure that the baggage area s pressurised and the temperature regulated.
c) Book a direct, non-stop flight so your pet will not have to be transferred to another plane, risking mistakes or
uncomfortable waiting periods.
Label your pet's carrier inside and out with his name and your contact and destination information,as well as the address and phone number of someone who can be reached at your destination.
Clip your pet's nails before the trip so they won't get caught in the travel crate's doors or sides.
Make sure the travel crate allows your pet to stand and turn around 360 without any difficulty. When your pet is comfortable,, there is less risk of it trying to escape the cage.
Introduce the cage to your pet weeks before travel by letting it sleep in there occasion, ally to get familiar with it.
Ensure you set aside money for the quarantine period. Check how many days is the standard quarantine peri6d as it differs from country to country. For example, Cambodia has no quarantine period but Hong Kong has a minimum quarantine period of four months. In Malaysia, it is only seven days.
To eliminate or minimise the quarantine time, get a Pet Travel Scheme (PETS) passport.
Obtain a PETS passport for your pet if you travel often to any of the participating countries (see page 8). Singapore is a participating country and you may want to fly out of Singapore to another participating country to avoid long quarantine periods if you have a PETS Passport.
Do not feed your pet 12 hours before departure for short flights and four hours before departure for long flights.
Fit a water bottle into the carrier cage so that water will not spill during travel.
Take your pet for exercise and to the toilet just before boarding.
Watch out for scam companies posing as pet relocaters online. It is best to ask expatriates in your country to recommend one.
If you are returning to Malaysia, ensure that your import permit issued by the Veterinary Centre in Shah Alam, Selangor is ready at the airport. You will need to fax the medical certificate, complete with rabies vaccination, to a friend or relative who will need to take the documents to the centre and apply for an import permit. Then the friend or relative must bring the import permit to the airport as your pet will need it to clear customs.
The standard quarantine period for Malaysia, if all documents are in order, is seven days.
The rabies vaccination must be done one month before departure but the treatment for ticks and tapeworm can be done three days before.
Remember to allocate time to obtain the import permit in Malaysia as the pet cannot enter the country without this document.

Previous Topic: Useful tips for packing light
Information Search here
Custom Search

rightmenu