The hill regions of Tasik Kenyir are a world of untouched virgin tropical jungle estimated to be millions of years old. There is no exact estimate of the number of species of plants and wildlife existing within this vast ecosystem. Dipterocarpus shrounds the horizon and towering trees of the majestic Keruing, Meranti and Kapor loom above, while exotic animals roam freely below. For research scientists, nature lovers, adventurers and keen photographers, Kenyir promises to be a world of discovery.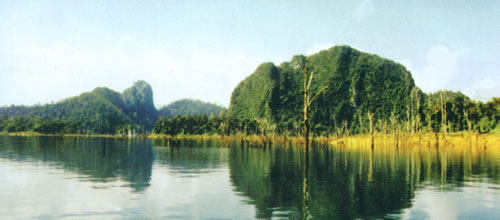 The highest peak in Lake Kenyir itself is Mount Chergau. Meanwhile Mount Gagau, with an elevation of 4,514 feet above sea-level, is the second highest peak in Taman Negara (National Park).

Expeditions to Mount Gagau have been shown to be an exhilarating experience. For the many who have scaled this mountain, it is truly an memorable event.
Among the other peaks in Kenyir are Bongsu, Tembat, Raung, Kachang, Lawit and Gajah Terom. At present, these are no facilities on any of these except Mount Gagau where base camps and hiking trails have been set up.

KETENGAH ( Central Terengganu Development Authority) recognizes that the mountainous tropical rain forest offers tremendous eco-tourism potential. In ensuring that this natural heritage is well preserved, proper steps are now being taken to provide facilities such as ranger stations, base camps and hiking trails, and all activities and development are closely scrutinized. Should you decide to venture into these hill regions please consult the relevant authorities.
Information Search here
Custom Search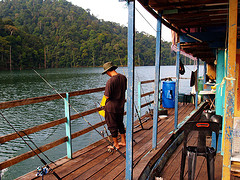 Fishes at Tasik Kenyir (Kenyir Lake)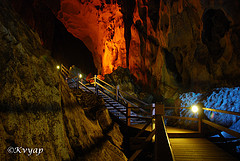 Caves


rightbottom