SETIU: It is only going to open its doors to guests next year, but the Terrapuri Heritage Village in Kampung Mongkok is already featured in a video for conserving the state's hritage.
The unique feature about this ocean front resort is that it is constructed of 28 traditional Terengganu-style Malay houses, some as old as 200 years.
Noting that the idea of preserving culture and sustainable tourism was important, he said Terrapuri was keeping alive stories of people who used to live there.
The 3 1/2 minute video, hosted by Allan Wu of Amazing Race Asia fame, is part of the campaign which sees a road trip through three countries -- Malaysia, India and Australia.
The aim of the campaign is to build awareness on how Honda creates fuel-efficieut vehicles.
Terrapuri, a soon-to-be-completed high-end resort, combines Terengganu's unique architectural heritage with the latest modern conveniences and is said to be the first of its kind in the state.
The resort is a 19-year labour of love by tour operator Alex Lee, managing director of Ping Anchor age, who spent close to RM2 million buying 28 traditional Terongganu Malay houses, such as the Rumah Bujang and Rumah Berserambi Terenggnnu.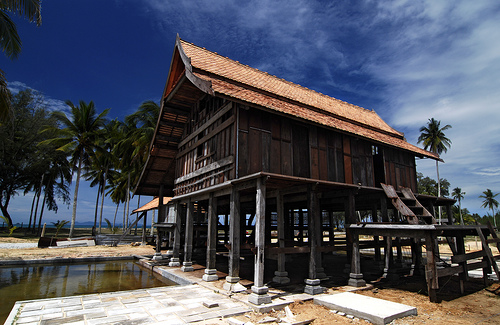 Some are being restored, and while others are being reconstructed using building materials said to be more than 200 years old,that Lee has salvaged.

The layout of the resort was inspired by the 19th century palace of Sultan Mansur II and its surrounding buildings. There will be villas as well as a restaurant, spa and gallery displaying Terengganu artifacts and crafts.

The resort, which is poised to open in April, is located near a painted terrapin sanctuary as well
as a mangrove swamp which is home to fire flies.

For Lee, the Honda video was uot only good mileage for the tourism industry here but is also a motivation for him to restore more houses or embark on similar projects.

"With the amount of development the state is going through, it's vital to conserve whatever heritage
we have as it is our selling point from a tourism perspective."


View Larger Map
Setiu is a main district in Terengganu, Malaysia. Setiu is also the name of the parliamentary constituency in which the district is situated.