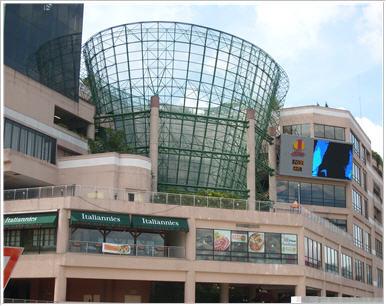 In their song, the Pointer Sisters may have been so excited about getting some action, but truth be told, for some of us, 1 Utama Shopping Centre comes a close second for the excitement factor.
Located some 20 minutes from the heart of the city, this eight-storey mall in Petaling Jaya is exciting on almost every level.

It's impossible foryou to be stumped for something to do here; there's always something going on and there are countless activities to take part in.

Want some rough action? You got it. How about some fabulous food to tantalise your taste buds? Again, you got it. Or how about some relaxing retail therapy you know you so deserve? The mall definitely has it.
1 Utama Shopping Centre is divided into seven zones - Highstreet, Oval, Rainforest, Promenade Lakeside, Entertainment Zone (Sportszone included), Centre Court and Courtyard.

You can find the fashion boutiques, buzzing with the latest collections of renowned labels like Tommy Hilfiger, Calvin Klein, GAP, French Connection, Zara, Forever 21, Brooks Brothers and the list goes on, at the Highstreet zone.
Should you feel tired from all the gawking andwalking, immerse yourself in the idyllic, lush greenery and breathe the fresh air on the Rainbow suspension bridge in the Rainforest zone.

Otherwise you can grab a cup of joe and go alfresco by dining at the various cafes and restaurants dotted around this zone. Head to Sushi Zanmai, Paddington House of Pancakes or Pick n' Brew cafe for some heavenly delicacies.

It is not known to many, but the Promenade Lakeside does indeed cater to those who crave outdoor fun and hobbies, like learning to scuba dive from professionals at Sealantis Dive Centre. IT you're more into clubbing, you can join the party at Mardi Gras which is just a walk away.

The Entertainment Zone and SportsZone are dedicated to movie buffs, sports enthusiasts, garners and adventure seekers.

There is where the 13-screen Golden Screen Cinemas, an indoor rock climbing gym called Camp5, a 36-lane bowling centre
called U-Bowl, a Cross Fire arcade and a family karaoke centre called Neway, are situated.

The best attractions are located at the rooftop of the building - there's the baseball/soft ball centre called It's a Hit! Batting Cages, and Padang for your dailydose of futsal or you could play dodgeball with your friends. That should keep you busy for a few hours.

If you're still not convinced that this place offers a lot of excitement, then consider this -1 Utama Shopping Centre is able to keep you going for hours on end, with no intervals, if that's what you're into and is open everyday of the week. What more could you ask for?

View Malaysia (malaxi.com) in a larger map
Website: www.1utama.com.my