About Bandar Bukit Raja
Bandar Bukit Raja is an integrated and self contained township in Klang. Bandar Bukit Raja spans a sprawling 4180 acres. Launched in August 2002, the township comprises residential properties such as low-cost apartments and link homes. In addition, the development in Bandar Bukit Raja also comprises commercial, institutional and industrial properties.
Bandar Bukit Raja Bandar Bukit Raja is a well-planned self-contained township comprising comfortable residential homes, schools, shops, police station, fire station, medical centre and commercial centre.
It is easily accessible via the Federal Highway, NKVE, the New North Klang Straits Bypass and the proposed Coastal Highway.
Bandar Bukit Raja With its pioneer residents already moving into the township, Bandar Bukit Raja is now alive with activities. Its well-planned layout, strategic location, high quality products and alluring designs are factors that will reaffirm its potential to become a promising contender as the preferred neighbourhood in the Klang district.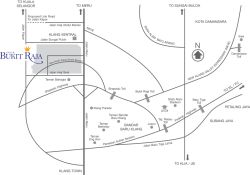 Bukit Raja map
Shopping Center: Klang Sentral, Klang Parade, Klang Jusco
Road/Street: Jalan Kapar, Jalan Haji Abdul Manan, Jalan Sungai Puloh, Jalan Meru, Jalan Haji Sirat, Persiaran Sultan Ibrahim, Jalan Batu Tiga Lama, New North Klang Straits Bypass,
Highway: Federal Highway, New Klang Valley Expressway (NKVE), Shapadu Highway
Taman Bahagia, Taman Bandar Baru Klang, Taman Berkeley, Taman Eng Ann, Bandar Baru Klang, Kota Damansara
To Sungai Buloh, Petaling Jaya, Subang Jaya, Klang Town, Kuala Selangor
Information Search here
Custom Search

rightmenu
rightbottom