KUBAH NATIONAL PARK& Matang Wildlife Centre
Approximately 20 kilometers west of Kuching is the Kubah National Park. It is dominated by sandstone plateau and covers an area of 2,230 hectares. The Matang Range formed a scenic backdrop at the park which includes three mountains-Mount Serapi, Mount Selang and Mount Sendok that can be seen clearly from Kuching.

The Park is a Mixed Dipterocarp forest and has one of Borneo's widest selections of palms and orchids.

Kubah National Park offers four trails and one of it leads to Gunung Serapi. Trekking Gunung Serapi is fun and looks easy because of the tarred road but can be quite challenging as the return trip takes about 5 to 6 hours. On top of the mountain is the telecommunication Tower, which is a restricted area.

Along the Palmarium Trail, visitors can expect to see lots of palms trees. The waterfall could be reached in about 2 hours using the Waterfall Trail which is the most popular trail. Ulu Raya trail leads to Matang Wildlife Centre and takes about 3 to 4 hours, Selang Trail offers a good view of Matang and the Santubong peninsula.

Visitors to Kubah National Park will have the chance to see the plant life of Borneo as the frest area dominating the park is rich in palms trees and orchids which include species like licuala, Rattans, Pantu, Pinanga, Appendicula, Dipodium and Eria. The park is also a haven for a wide variety of butterflies.

The dipterocarp forest, interspersed with patches of scrub and kerangas, is also home to a variety of wildlife which include bearded pigs, mouse deer, squirrels, black hornbill, amphibians and reptiles. Chances of seeing the animals are quite slim here as compared to Bako National Park, as the animals tend to hide deep in the forest.

As not to disappoint visitors to the National Parks, there is the Matang Wildlife Centre as an alternative, which is very much a part of Kubah National Park. The centre houses the endangered wildlife such as Sambar Deer, Crocodiles, Sun Bears, Civets and Bear Cats. The major attraction are the Orang utans, which are orphaned or rescued from captivity.

The animals are kept in large enclosures. There are also three aviaries for Hornbills, Sea Eagles and a host of other indigenous birds. The best time to visit the centre is during it's feeding time.

There are four trails at Matang Widlife Centre. The Sungai Rayu trail will lead to Kubah National Park. Visitors who want to go to the waterfalls can try the Sungai Senduk or Sungai Buluh trail. Along the Pitcher Trail, visitors will be able to spot pitcher plants scattered all over the forest floor.

All the jungle trails meander through the cool forest and provide opportunities to observe the rich variety of plant life. The picturesque waterfalls provide perfect spots for picnics and cool refreshing dips after the energetic walks through the forest.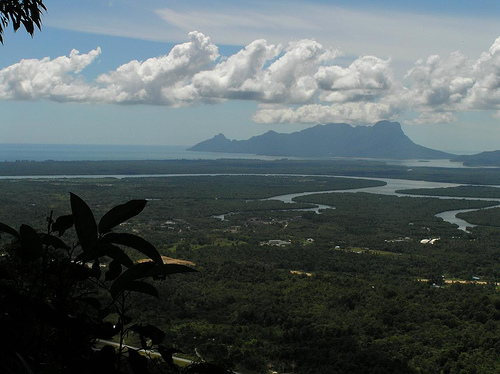 How To Get There?
Kuching-Kubah National Park/Matang Wildlife Centre:
There are no bus services to Kubah National Park and Matang Wildlife Centre

RM35 each way by Taxi

White mini bus (bus sewa)

Wait at the alleyway next to shop near Saujana car park

It leaves only when there are enough passenger

Fare: RM5.00 per person-one way

RM35.00 per van-one way

Both Kubah National Park and Matang Wildlife Centre are favorite destination for day-trippers because of its short distance away from Kuching City Centre. For those who want to explore more of the forest, accommodation and other facilities are available.
ACCOMMODATION [KUBAH NATIONAL PARK]
FOREST LODGE (TYPE 4)
2 rooms 6 single bed (Fully air-conditioned)
RM225.00 per unit
FOREST HOSTEL (TYPE 5)
3 rooms 10 single bed (Fan only)
RM150.00 per unit
FOREST HOSTEL
3 rooms 12 single bed (Fan only)
RM15.00 per bed
ACCOMMODATION [MATANG WILDLIFE CENTRE]
FOREST LODGE (TYPE 5)
2 rooms; 1 double 1 single (Fully air-conditioned)
RM150.00 per unit
FOREST HOSTEL
8 rooms; 16 single 16 twin
(Fan only, attach bathroom & toilet)
RM15.00 per bed, RM40.00 per room
CAMPSITE (tent not provided)
Shower room & Toilet only
32 sites only (RM5.00 per person)
NATIONAL PARK & WILDLIFE BOOKING OFFICE
(Sarawak Tourism Complex, Jalan Tun Abang Haji Openg)
TEL: 6 082 248088 FAX: 6 082 248087
ONLINE BOOKING; http://ebooking.com.my
URL: www.sarawakforestry.com OR www.forestry.sarawak.gov.my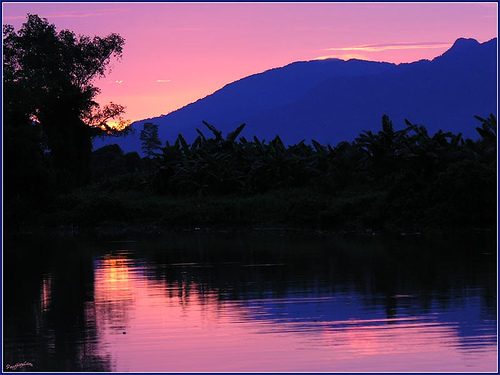 A purplish sunset over the Matang Ranges as the last ray reflect on the Sarawak River.