IRRAWADDY DOLPHIN WATCHING
Damai is the best place to watch dolphins, particularly in Santubong, Salak and Buntal river estuaries. The irrawaddy, or snubfin dolphin, are found in these estuaries and shallow coastal areas.

Boat cruise can be arrange with the Tour Operator desk at Holiday inn Resort Damai Lagoon or Contact;

CPH Travel Agencies
Tel: o82-243707
Fax: 082-426981
Email: cphtrvl@po.jaring.my
URL: www.cphtravel.com.my/cph
Branch at Holiday inn Resort Damai Lagoon Tel: 082-846618

GOLFING
Damai Golf Course Country Club is the first Amold Palmer-designed course in Malaysia. The setting is truly spectacular, bordering the foothill of Mount santubong, the beach and the mangrove forests of the South China Sea.

It was opened in 1996 and boasts a true elegance of a world-class 18-hole golf course.
Damai golf & Country Club
Tel : 082-846088
Fax: 082-846044
Email:dgcc@po.jaring.com
URL: http://www.damaigolf.com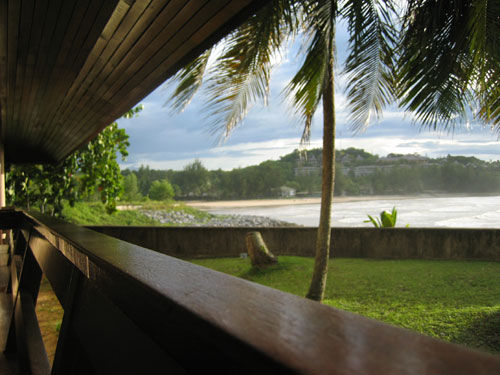 WATER SPORTS
water sports such as jet and water skiing, canoeing, sailing in catamarans and windsurfing are available for in-house guests at the resorts in Damai. Please contact directly the resort activity desk.

MALAY VILLAGES
The two Malay villages that are well-known in Damai area are the Santubong Village at the foot of Mount Santubong and the Buntal Village, which is just off the Kuching Santubong road and is famous for its excellent seafood restaurants. Near Santubong there are two idyllic beachside villages, Kampung Pasir Panjang and kampung Pasir Pandak, both surrounded by rolling hills, coconut groves and durian orchards. It is just a few minutes drive from Damai beach.

Some of the well-known seafood restaurants in the area are;
a) Palm Garden Seafood Restaurant (Tel: 082-846698)
b) Lim Hock Ann Seafood Restaurant (Tel: 082-846533)
c)Teo Seafood (Tel: 082-8465327)
d)Beach Seafood Restaurant (Tel: 082-846711)
e) Dayang Seafood Restaurant (Tel: 082- 321345/010 8881726)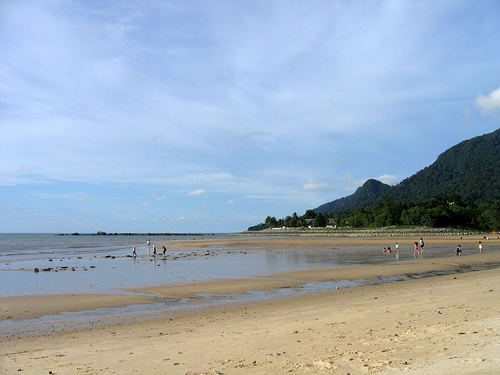 ACCOMMODATION IN DAMAI BEACH
Resort rates include a 10% service charge and 5% government tax. Please check directly with the resorts for promotional rates which are sometimes available at certain period of the year. Rates also subject to revision.

Holiday Inn Resort Damai Beach
Teluk Bandung, Santubong.
Tel: 082-846999
Fax: 082-846777
Email: hirdb02@po.jaring.my
(general),
resvn@hirdb.com
(room reservation)

Holiday Inn Resort Damai Lagoon
Teluk Penyuk, Santubong.
Tel: 082-846900
Fax: 082-846901
Email: hirdlbsc@po.jaring.my (general),
hirdlrsv@po.jaring.my (room reservation)

Santubong Kuching Resort
Jalan Pantai Damai, Santubong.
Tel: 082-846888
Fax: 082-846666
Email: skresort@po.jaring.my

Permai Rainforest Resort
Teluk Penyuk, Santubong.
Tel: 082-846490/87
Fax: 082-846486
URL: www.permairainforest.com

Nanga Damai (Luxury Hmestay)
Jalan Sultan Tengah, Satubong.
Tel: 019-8871017,016-8871017
Fax: 082-414802
Email: nangadamai @hotmail.com
URL: www.nangadamai.com
>> Previous Pages <<