Sipadan Supreme Diving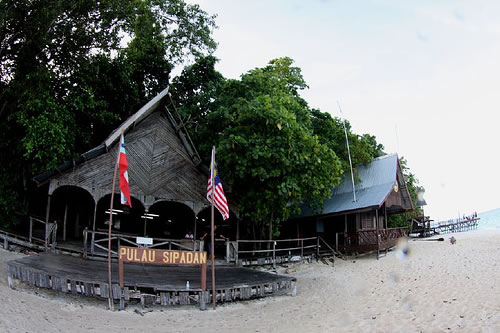 With our holiday in Malaysia drawing to an end, we decided to conclude our fantastic holiday with a visit to East Malaysia to try out the diving there. Widely recognised as one of the world's top five dive sites,the designation of Sipadan Island as a Marine Park at the beginning of 2005 has meant that anyone wishing to diver here was forced to reconsider their accommodation possibilities. While surfing the net, we uncovered the unusual option of staying on a now converted oil-rig platform named Sea Venture, situated just off the island of Mabul.
Our time in Tawau was all too brief but after a comfortable night in a comfortable night in a hotel, we were met promptly at 06.30am the next morning for our transfer to the rig. Although the rig is only 1km from the island of Mabul, it looms large on the horizon. if you have ever wondered how you actually board an oil rig, its simple, you hop on a platform that sits slightly under the surface of the water and ascend 'lift style'. What a fantastic way to board this stationary vessel and what an even better way in reverse to begin your dive on their 'in-house' reef!
As you might imagine for a home originally designed for oil-rig workers, things are a little on the basic and cramped side, but we found everything adequate for our needs; with the terrific plus side that the food was fantastic. but we were here to dive and with unlimited dives available, that is exactly wht we did!
This was a big contrast to the accessibility and straightforwardness of Perhentian. Sipadan is actually a mushroom shaped atoll rising seven hundred metres from the deep sea floor. It is this contrast that creates both the techincality of the dives and the environment for the plethora of marine life that you are likely to see.

Sipadan may not be the best arena for beginners to learn their craft: there are many more suited sites for that in Malaysia; but if you are comfortable with your skill levels, then this is definitely the place to test them. Currents can be quite strong and the amazing visibility demands careful checking of gauges and the speed of descents. As a dive experience, it is hard to imagine anything better.

Everything that we had ever hoped to see in this part of the world seemed to be here in abundance. Whether it was swirls of almost menacing Barracuda, or the eerie silhouette of sharks gracefully passing overhead, there were so many moments that had you wanting to shout with exaltation. Only to realise the impossibility of any sort of shouting at forty metres plus! For Nudibranch (a brightly coloured reef worm) freaks like me, this was as good as it gets. The only problem, keeping an eye on available camera memory as well as dive gauges! An underwater housing for your ditital camera is highly recommended.

Far too quickly our two night/three day experience reached its end. But both Nicky and I knew that this, along with so many of our underwater experiences in Malaysia, had been memorable enough to guarantee our return. Soon!!
New Submit info - [submit here]

Posted at 16-07-2010
Friendly Dive Club & Resort located on beautiful Mabul island. Our experienced dive staff will happily show you Malaysia's underwater paradise. This is your invitation to dive Sipadan, Mabul and Kapalai along with the nearby island of Siamil.
http://www.sipadan.com/