The glossy, black labu sayong is a State icon for Perak. Instantly recognisable, labu sayong takes days of handwork in forming, firing, drying and engraving. The gourd-shaped jars made of fine clay are carbonised using hot rice husk to give them that black gloss.
For authentic labu sayong, go to Kampong Sayong, located in the backwater of Kota Lama Kiri near Kuala Kangsar.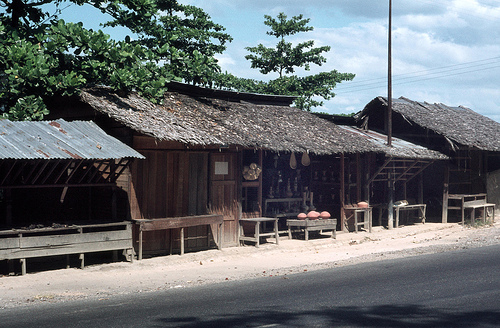 Road side stall selling the famous 'labu' pottery jugs from Sayong.
On the former main highway, near Kuala Kangsar.
Only river pebbles are used to polish the outer surface of the jar.
With simple tools and limited machine usage, minor flaws on the jars are to be expected. Indeed, they are the best indication of handmade authenticity.
Watch out for machine-formed jars that are identical and have traces of seam lines. They are brought in from elsewhere to ride on the popularity of labu sayong.
Village artisans will gladly show you how it's done and even let you try your hands at it. But forming the clay to make containers is not as easy as it looks.
You can buy labu sayong from the villagers or at a bazaar near Kuala Kangsar's Laman Budaya rivefine park. Prices vary according to size and artistic quality. Be prepared to pay RM38 for a fairly ornate one though jars costing RM10-15 are
still of acceptable quality. - By CASEY NG
An artisan uses his hands to give the labu sayong its familiar shape; Far right: The
Aw Pottery, Johor
There's more than just pottery at Aw Pottery. Here, you can find an ancient wood-fire kiln preserved as a showpiece, a legacy of the craftsmanship by its founder, the late Aw Eng Kwang. Fondly named "Dragon" because of its structure, this woodfire kiln was built by Aw, an immigrant from Chaozhou province in China.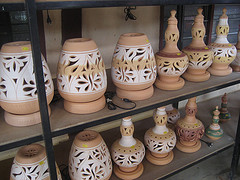 The factory is located behind the showroom, stocked with a wide range of products priced from 50 sen to RM200.
While Aw Pottery is popular for landscaping, home and garden decor, don't miss the impressive award-winning creations displayed in the Aw Museum.
For RM10, you can have a go at pottery making and get your masterpiece glazed and fired for collection in a week's time. This experience is limited to a visitors at a time and requires three days' notice.
Aw Pottery is situated at 83kin along the main road in Kg Macap, Simpang Rengam enroute from Johor Baru to Air Hitam. It is open daily from 9am to 5pro and up to 6pm on Sundays and public holidays. For enquiries, call 07-754 1480/754 1476. - By PEGGY LOH
A production worker checks vases for flaws; Far left: Colourful display in one section of the Aw Pottery showroom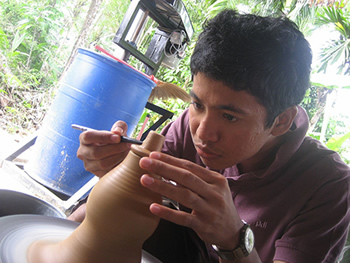 Kuala Selangor Pottery
For traditional clay pots, seek out V.N. Ramadas in Kuala Selangor. His shop is located at Batu 2, Jalan Klang in this
fishing town.
The 55-year-old has travelled to many parts of the world to learn the art of pottery making. He makes decorative flower pots and glazed cooking pots, gravy pots, oil lamps, vases etc.
At his shop or factory, you can pick up oil lamps for as cheap as 10 sen as well as expensive cooking pots for as much as
RM250.
"I've been in this business for 28 years, and my designs have changed with the times. These days, people prefer using
glazed pots for cooking curry, kurma and rendang because these pots look prettier and don't crack easily," says Ramadas,
who runs his business with the help of his children and wife.
Traditional clay pots are better suited for charcoal and wood fire stoves.
"As for oil lamps, many families come before Deepavali to buy these for their altars and homes. Some people even use oil lamps as candle holders."
Ramadas is one of five families in Kuala Selangor in this business.
"Kuala Selangor and Perak are famous for their clay pots," he says. "We have customers from all over the country."
Ramadas can be contacted at 012-6671373. - By $HANTI GUNARATNAM
A worker making oil lamps that are popular during Deepavali; Far right: Pots for all uses can be found at Ramadas' factory