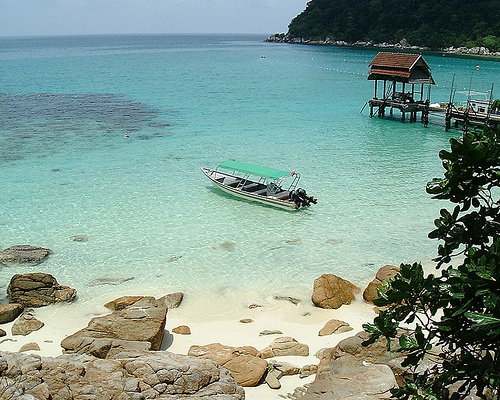 PULAU Tioman gained its reputation as one of the world's most beautiful islands in a Time magazine article in the 1970s.
The island's charm was also why it was picked as the setting for the Hollywoodmusical South Paci! c in 1958.
However, Tioman's real treasure lies beyond its shore in the undersea kingdom, where abound the colourful coral reefs and marine life such as anemones, star" sh, limpets and thorny sea urchins.
Tioman is a haven for water sports enthusiasts, who can participate in scuba diving, snorkelling, windsur" ng, kayaking and deep sea " shing, among others.
There are more than 20 dive sites at Tioman, most of which are on the west as the water is calmer and shallower.
The best spots are at Tulai and Renggis, where one can " nd beatiful reefs and wrecks.
The waters around Tioman have soft and hard corals, sponges, endangered giant clams and turtles as well as trigger" sh, angel" sh, groupers and barracudas.
Air Batang and Renggis islands are ideal for snorkelling. Besides reefs, Renggis has the bu! alo " sh and the famed moray eels, and if lucky, one can even bump into the harmless blacktip sharks.
Air Batang is ideal for glass bottom boat rides as one can savour the sights of turtles and the beautiful yellow coral reefs.
Those who wish to take up a course in scuba diving can also do so at Tioman. There are 17 Padi-certi" ed dive operators on the island. A four-day Padi Open water course costs about RM1,000 and each dive
for licensed divers costs RM90.