Quiet beach picnic The beaches around kuantan are popular with picnickers. For those who'd like more privacy

If you want to enjoy a picnic by the sea in Kuantan, Pahang, without having to worry about the crowd, parking or pricey food and drinks, then head for Pantai Pelindung.
It shares the same sea (the emerald waters of the South China Sea) and whhe sandy beach of the more famous Teluk Chempedak, about 10 minutes drve from Kuantan chy centre.
If Teluk Chempedak, Or simply TC to regulars, is easily the most visited picnic and recreation spot in Kuantan (hence, the more costly food and eyeD'thing else), Pantai Pelindung is relatively unknown and, because of its secluded iocabolb it has been the "secret" hideaway for those who know of its existence. Its location is not really a secret as there is a signboard by the road (on the right if you are driving from Kuantan towards Cherating). However, the signboard is small and motorists easily miss it. The signboard will lead you to a small narrow road towards Kampung Pelindung fronting the sea.
You can park just 50 metres from the waters edge. If you carry a saillboat or a jetski, it is very easy to get it into the water. You can sail or ski without fear of colllding with swimmers.
The beach is also accessible via TC. At one end ol the TC beach are boulders, a low jungle-covered hill called Bukit Pelindung and a secluded bay called Teluk Perahu accessible by a boardwalk on stilts. Beyond the hills and the bay is Kampong Pelindung.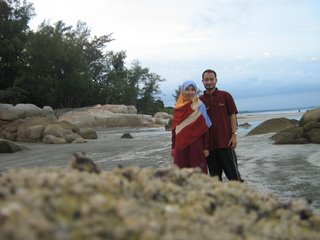 History By The Bay
Those who spend time at the village can also watch fishermen set off to sea in their boats and go fishing with nets and lines. These coastal fishermen do not go far out but keep within sight of land.
You can do all these while envying a cup of hot tea and freshly fried kerobok lekor at a stall by the beach.
According to locals, the names Teluk Perahu, Kampung Pelindung and Pantai heliodung originated from World War II (1941-1845). At that time, the villagers fled and took shelter (lindung) in the hills when they saw the boats (perahu) carrying Japanese soldiers land in the bay.
Today, shady trees lining the white sandy beach offer picnickers shelter from the sun.