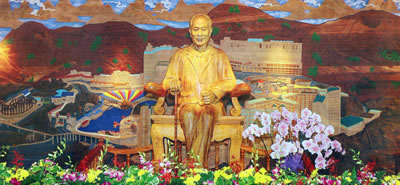 Memorial hall set up in Gentingin honour of Lim Goh Tong
AMEMORIAL hall has been set up in Genting Highland to commemorate the lateTan Sri Lim Goh Tong, who died in October last year.

A crafted wooden statue of the Genting Group Bhd founder stands proudly at the main entrance of the Tan Sri (Dr) Lim Goh Tong Memorial Hall, situated at the Memorial Park where he is buried.

The background of the statue is another piece of crafted wood, depicting the Genting Highlands resort.

The burial ground was a personal choice. Goh Tong had expressed his wish to be buried there after feng shui masters declared the site a prosperous "dragon's head".

His son, Tan Sri lim Kok Thay, said the family chose April 4 to inaugurate the hall because it was the senior Lira's birth date.

"This date will also mark the official opening of the memorial hall," he said.

He said Goh Tong's legacy was magnanimous and of global statute and his father should be remembered as a Malaysian visionary who also believed in the sanctity of family unity.

"While his beloved family always remained his first love, Tan Sri Lirn Goh Tong made it no secret that among his many projects, Genting Highlands had a very special place in his heart," he said.

The hill meant so much to him that he spent the last few years of his life here, although he owned many other residential properties.

Kok Thay said that was the reason why they built the hall at the hill.

"He had accomplished his labour of love, literally the pinnacle that capped his career, the turning point of his illustrious track record, which will always be his 'trademark' project."

Kok Thay said the story of Goh Tong would live on and be an inspiration for all.

"He had such a goed foresight and the foundation he laid would be a shining beacon for many more generations to come," he
said.

The hall is open to the public daily from 8am to 10pm.