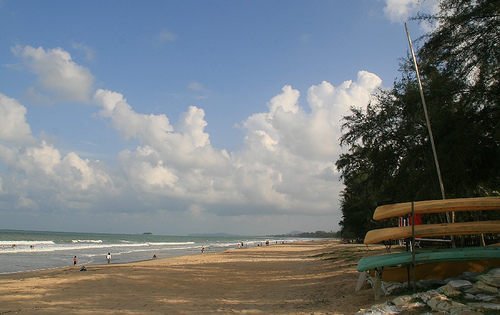 Cherating Beach seems to perch on the east coast of Malaysia like a tropical Garden of Eden by a jade-coloured sea. The pace of life in this 80-hectare Resort, complete with bungalows on stilts nestling amid lush vegetation, is set by the comings and goings of the macaque monkeys, gibbons, monitors, rare birds and multicoloured butterflies. Here you can enjoy one pleasure after another, none of which is anything like the last - an excursion* in a dugout canoe, a relaxing session at the Club Med Spa* or a cocktail at the magnificent bar, to name but a few.
Cherating is located about 50 kilometres north of Kuantan town. The place is the last popular beach destination before the Pahang/Terengganu border near Kemaman. Whenever Cherating is mentioned, beach aficionados would normally conjure images of lazy afternoons on the beach at Kampung Cherating Lama.
The place came to its worldwide fame in the 60s when backpackers flocked to the place to experience the the pristineness and innocence of the area. Through word of mouth, which was later picked up by travel writers from the likes of Lonely Planet, Footprints and Rough Guide, Cherating soon found itself languishing on another level of international popularity.
Today, the area from Kampung Cherating up to the state's border with Terengganu is dotted with luxurious resorts , including Impiana Cherating, Suria Cherating, Legends Resort, Club Mediterranee and Holiday Villa. All these resorts are on the beachfront but the beach themselves are not exclusive but open to the public. The beaches here are more open to the elements and can be rough but exciting at times. Even if the crashing waves cause the views along the beach to be somewhat misty with the sprays, this only enhances the dramatic vistas on Cherating's northern beaches.
The village at Cherating Lama offers a unique kind of ambiance with budget stays providing spartan chalets and lodges scattered throughout the area. Weekend is all about confusion and congestion when locals and tourists vie for the best spots on the casuarina -lined beach. There are quite a few restaurants that offer anything from seafood, Malay-Thai cuisine to some mish-mash of food preparation passed-off as 'fusion'.
Like any other Malay villages, the place is quite well-equipped with all the amenities required to make a visit comfortable. Bearing in mind that this a Malay settlement that shares its persona with tourism, visitors are well-advised to respect the residents and ensure that the place remains livable and visitable always.
Cherating Direction and Location Map