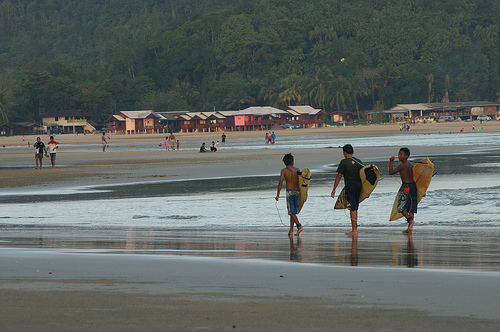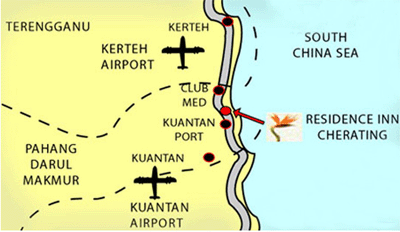 Cherating is located at the popular Kampung Cherating along the East Coast main trunk road in the state of Pahang and are just 3 hours by road from Kuala Lumpur or 40 minutes from Kuantan airport. By air, just 35 minutes from Kuala Lumpur or 45 minutes from Singapore. Also available by public transportation from Kuantan to Cherating. Kampung Cherating is your entry point to a fascinating tropical holiday.
Cherating is a strech of Golden White sandy Beach straddling Kampung Cherating Lama to Chendor Beach bordering Kuala Kemaman in Terengganu. Strongly characterized as a traditional coastal village and its unique feature of rustic atmosphere and the warm hospitality of the village folks.
Directions:
From: Kuala Lumpur, Take the east bound highway to Karak, where the highway ends. Continue in direction of Kuantan, in Kuantan, look for road signs that leads you to 'Kuala Terengganu'. This is a coastal road heading north to Cherating. Pass Pantai Batu Hitam, Pantai Beserah, you will reach Cherating. Look for road sign Kampung Cherating, Suria Cherating Beach Resort is border with Kemaman and the last resort in Cherating.
From: Kuantan/Kuala Terengganu Highway, Take Karak Highway To Kuala Lumpur, due west From Kuantan. From Sultan Haji Ahmad Shah Airport, you will reach a T-junction, turn left and drive to Chukai direction. Pass by Gebeng Industrial Area and Kuantan Port, and the Sungal Ultar Village. The resort is about six miles down the road. There are signs posted leading to the resort.
Information Search here

Pahang location map