Langkawi Dialogue to focus on human capital development and poverty eradication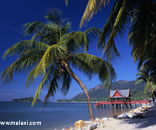 KUALA LUMPUR: The
Langkawi
International Dialogue will focus on capacity building, human capital development and poverty eradication.
Foreign Minister Datuk Seri Syed Hamid Albar said preparations were on track for the dialogue from Aug 5 to Aug 8.
"Fifteen heads of states have confirmed their attendance so far.
"We will be having a dry run on July 19 to ensure that everything is in order," he told reporters at the Parliament lobby on Tuesday.
Syed Hamid said this year's LID was also open to leaders from outside Commonwealth countries, and so far, Vietnam and Thailand had confirmed their attendance.
Other countries invited include Bangladesh and Gambia.
Dialogue participants, he said, included those from the government and private sectors, academicians, and youth and non-governmental organisations.
The Langkawi International Dialogue is held once every two years.
Labels: Langkawi