Ayer Keroh Location Map peta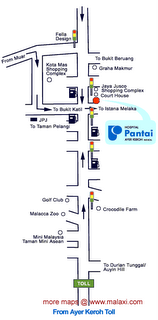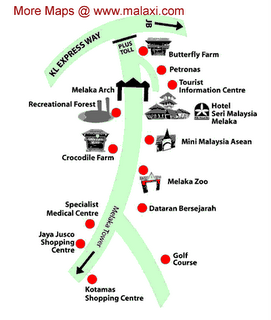 Click the map for bigger view
Hotel Seri Malaysia Melaka is located 1km after the Ayer Keroh toll plaza and we are near to Zoo Melaka, Butterfly and Reptile Sanctuary, Taman Mini Asean, Crocodile Farm and Honey Bee Museum.

1. Auyin Hill Resort
2. Recreational Forest
3. Bullock Cart Ride
4. Crocodile Park
5. Expo Centre
6. Butterfly Park
7. Puteri Resort
8. Ayer Keroh Country Resort
9. Mini Malaysia
10. Mini ASEAN
11. Zoo
12. Dataran Sejarah
13. Paradise Melaka Village Resort
14. Ayer Keroh d'Village
To
Kuala Lumpur
, PLUS Expressway, To Johor & Singapore, Toll Plaza, To Durian Tunggal, To Auyin Hill Resort, Recreational Forest (Hutan Rekreasi), Bullock Cart Ride, Malacca Crocodile Park (Taman Buaya Melaka), Expo Centre (Pusat Ekspo), From Malacca Town (Bandaraya Melaka), Ayer Keroh d' Village, Paradise Malacca Village Resort, Dataran Sejarah, Tasik Ayer Keroh Lake, Padang Golf Course, Zoo, Mini Malaysia, Mini ASEAN, Ayer Keroh Country Resort, Puteri Resort, Butterfly Park (Taman Rama-Rama).