After Park your car near the Tugu Negara. Then you can see the the main entrance of the Tugu Negara. No need to buy ticket it is free.
Tugu Peringatan Negara Malaysia located at Persiaran Salahuddin road near the Tasik Perdana (Lake Garden)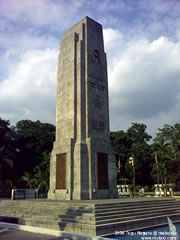 The idea for the construction of the National Monument (Tugu Peringatan Negara Malaysia) was mooted by the then Prime Minister of Malaysia, YTM Tunku Abdul Rahman Putra Alhaj in 1963 to commemorate the warriors who died defending the sovereignty of the country. An Area measuring 48,562 square metres facing the Lake Gardens was set aside for its construction. The monument complex encompasses five main components; the National Monument, fountains, pavilion, a war memorial and the surrounding gardens.
The monument embodying seven bronze statues also represents the triumph of the forces of democracy over the forces of evil. The monument was designed by an American sculptor, Felix De Weldon and was completed in early 1966. It was unveiled on 8th february of the same year and from then on a ceremony to commemorate the passing of the warriors is held here annually.
Prior to its construction, another monument was erected near the Railway Station after World War I to commemorate the warriors who died during the war. A simple ceremony to honor their passing and sacrifices is held on 11th November every year. The names of warriors who died dueling World War II were added on the the monument until it was replaced by the present National Monument.
Tugu View Cafe - Cocoa Boutique
You can have Hot chocolate drink inside the "Tugu View Cafe", Siting inside "Tugu View Cafe" you can see the view of Tugu Negara.
Tugu Negara Location Map
Jalan Parlimen map, Persiaran Salahuddin map, Asean Sculpture Garden map
More Places of Interest


Lake Garden ( Taman Tasik Perdana )