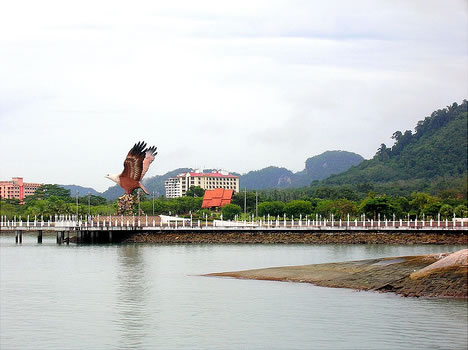 Langkawi is an archipelago of 99 islands and a duty-free island in the Andaman Sea, some 30 km off the mainland coast of northwestern Malaysia Kedah. The islands are a part of the state of Kedah, which is adjacent to the Thai border. Langkawi is also an administrative district with the town of Kuah as the capital and largest town. By far the largest of the islands is the eponymous Pulau Langkawi with a population of some 45,000, the only other inhabited island being nearby Pulau Tuba.

Langkawi is the ultimate holiday paradise that offers modern accommodation facilities and amenities set against the natural backdrop of sun-drenched beaches and ancient rainforests teeming with exotic plant and animal life. Be transported back in time with the enthralling folklore and fascinating legends of Langkawi.
The name Langkawi is a combination of 'Lang' and 'Kawi'. 'Lang' means 'Helang' eagle in Malay. In the past days the land was a home to innumerable eagles. 'Kawi' is the Sanskrit word for marble, which is found in excess in this part of Malaysia. Both these words together joined to form the word 'Helangkawi' which ultimately became as Langkawi.
Another reference found in the book of Tun Mohamed Zahir's named 'The Legends of Langkawi' which says its a mix of two sanskrit words 'Langka' (beauty) and 'Wi' (innumerable).
Langkawi lies north of the Strait of Malacca in the southern Andaman Sea near the border between Malaysia and Thailand. Only a few kilometres to the north lies the neighbouring Thai island of Ko Tarutao. The island group's main town, on the main island, is Kuah.
Langkawi's highest point is Gunung Raya, rising to 890 m above sea level in the main island's central-eastern area.
Hotel & Resort