About Avenue K Home
---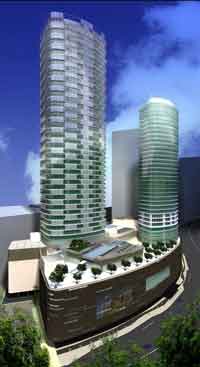 In Asia , shopping has become a central part of daily life, it is not just a necessity, it has also become a past time, where individuals or groups spend most of their time in shops, without any obligation to buy or to consume. Unfortunately due to the extreme climate, shopping in Asia has never had the opportunity to become what it is in Europe or the US . There are no tiny village streets or boulevards lined with stores nor are there squares with café life. A synergy exists between socialising and shopping and with mall design in Asia being a standard formula, there has not as yet been the opportunity to explore this very important theme.
To address this social aspect of shopping, avenue K aims to provide the third place between work and home, a social hub or meeting place for people to converge during the day and after home or work. With leisure being a primary objective in a shopping context, avenue K addresses the need for a specific identity and to create a certain shopping culture, where lifestyle, aesthetic and social elements converge. This is created by recreating a village culture within the confines of a mall space. The aesthetic of the space, the layout of each floor and the retail mix applied, are the core of creating this hub.
With an ever increasing number of consumers converging to higher income brackets and a larger number of educated youth in Malaysia , avenue K addresses a need for a new concept which is more international. With urbanites becoming more well-traveled and global, there is an appreciation of lifestyle which gives value to the way things look and how they are created. In any economy that is growing there is always a correspondent growth in aspirations to have a better quality of life and to have a new experience no matter who. The concept of avenue K is to target this feature of developing countries and to provide this experience.
By creating a space to live our lives, offering fresh surroundings in which to explore the discovery of new inspirations, finding the familiar, or to unwind with friends, avenue K aims to pamper, provide, inspire and excite. Many centres are either categorised as niche or mass, avenue K will be approachable. The retail mix aims to incorporate elements of convenience, local culture and global concepts.
Asians value the time spent eating and drinking, it is an important part of their culture and family life. With the success of well designed restaurants in Kuala Lumpur over the last 5 years, it is testament to the fact that consumers now also appreciate a choice of quality and the ambience that surrounds them. avenue K 's food and beverage concept covers an entire cross section of culinary experiences from the inexpensive but quality food in the food courts to fine dining. The Malaysian culture is extremely specific about food and quality and there has been a deficiency in the catchment area for quality food. Every floor has concepts to provide for good food and sitting areas to people watch as one would experience in a town square in Europe .
K residence , above the centre, consists of 180 residential units in the heart of the city's financial and diplomatic district. Situated opposite the Petronas Twin Towers , the residence has one of the world's most impressive views and an attention to detail second to none. It offers an opportunity to work with a choice of the world's leading interior designers, direct and private access to the amenities of the shopping centre, a full time concierge service, pool and gym facilities. The combination of the shopping and centre and residence provides an instant village atmosphere, it is the first in its category in Kuala Lumpur .
To solidify the branding of the lifestyle, avenue K publishes the K Guide . K Guide is the realization of the new approach. It is a thought provoking and inspiring view of a new Malaysia , a cutting edge quarterly in tune with the seasons. It personifies the K lifestyle – an alternative vision in a changing world. The K guide signifies that the reader belongs to an elite international group and sums up the whole philosophy of the centre. In addition is the events programme of the K Lifestyle. Avenue K hopes to promote a lifestyle for people who enjoy taking time to create their own style and individuality which are factors that create your own identity. Each of avenue K 's events are targeted at different types of individuals, from the fashion set to captains of industry, but all with the same aspirations and affinity to stand out as individuals. The programme is on-going and will continue to bring cutting edge ideas that allow the community to participate in the world of K.
Source from www.avenuek.com.my, Gabriel Lee gabriellee@avenuek.com.my
avenueK Location Map